Dell EMC Data Domain deduplication storage systems continue to revolutionize disk backup, archiving, and disaster recovery with high-speed, inline deduplication. This innovation continues with Dell EMC's new generation of midsized and large enterprise Data Domain systems powered with a Flash SSD. By consolidating backup and archive data on a Data Domain system, you can reduce storage requirements by up to 55x, making disk cost-effective for onsite retention and highly efficient for network-based replication to disaster recovery site.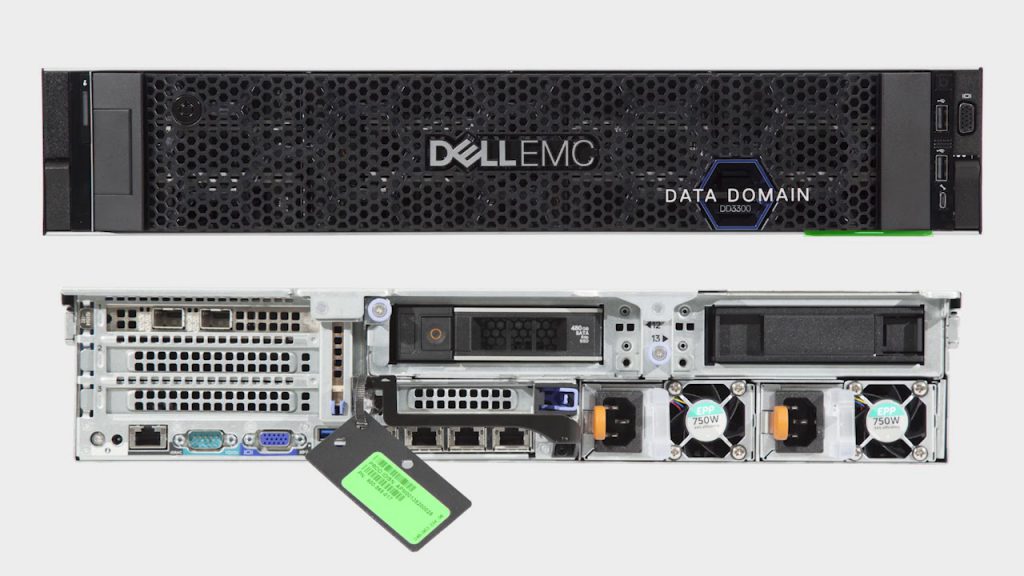 Software
Software features
Global CompressionTM, Data Invulnerability Architecture, including inline verification and integrated dual disk parity RAID
6, snapshots, telnet, FTP, SSH, email alerts, scheduled capacity reclamation, Ethernet failover and aggregation, Link Aggregation Control Protocol (LACP), VLAN tagging, IP aliasing, Data Domain Boost, Data Domain Encryption, Data Domain Extended Retention, Data Domain Retention Lock, Data Domain Virtual Tape Library (VTL) (for open systems and IBMi operating environments). Available add-ons include: Data Domain Boost, Data Domain Cloud Tier for long-term retention, Data Domain Cloud Disater Recovery, and Data Domain Replicator.
System management
Data Domain Management Center, Data Domain System Manager, SNMP, and command line management interface.
Data management
NFS v3 over TCP, CIFS and DD Boost over 1 GbE or 10 GbE or Fibre Channel, tape library emulation (VTL) over Fibre
Channel, and NDMP Tape Server.
Specifications
DD3300
DD6300
DD68003
DD93003
DD98003
MAXIMUM THROUGHPUT
Up to 4. TB/hr
Up to 8.5TB/hr
Up to 14TB/hr
Up to 20TB/hr
Up to 31TB/hr
MAXIMUM THROUGHPUT (DD BOOST)
Up to 7.0TB/hr
Up to 24TB/hr
Up to 32TB/hr
Up to 41TB/hr
Up to 68TB/hr
LOGICAL CAPACITY1
200TB – 1.6PB
1.8 – 8.9PB
2.8 – 14.4PB
7.2 – 36PB
10 – 50PB
W/ DD EXTENDED RETENTION2
–
–
5.6 – 28.8PB
14.4 – 72PB
20 – 100PB
W/ DD CLOUD TIER2
600TB – 4.8PB
–
8.4 – 43.2PB
21.6 – 108PB
30 – 150PB
MAX USABLE CAPACITY
Up to 32TB
Up to 178TB
Up to 288TB
Up to 720TB
Up to 1PB
W/ DD Extended retention2
–
–
Up to 576TB
Up to 1.44PB
Up to 2PB
W/ DD Cloud Tier2
Up to 96TB
–
Up to 864TB
Up to 2.16PB
Up to 3PB
ES30 SHELVES
–
3TB, 4TB
3TB, 4TB
3TB, 4TB
3TB, 4TB
DRIVE TYPE
SAS
SAS
SAS
SAS
SAS
DS60 SHELF
N/A
3TB, 4TB
3TB, 4TB
3TB, 4TB
3TB, 4TB
DRIVE TYPE
N/A
SAS
SAS
SAS
SAS
BUILT-IN NETWORKING
1x Mgm't port
1x Mgm't port
1x monitor port
1x Mgm't port
1x monitor port
1x Mgm't port
1x monitor port
1x Mgm't port
4x 10G Base-T
4x 10G Base-T
4x 10G Base-T
4x 10G Base-T
4x 10G Base-T
OPTIONAL NETWORKING W/ IO CARDS
The 10GBase-T card can auto- negotiate down to support 1GbE

Up to single dual- port 10GbE SLICs: Optical

Single quad-port
16Gbps FC HBA

The 10GBase-T card can auto- negotiate down to support 1GbE

Up to 4x quad-port
10GbE SLICs: Optical

Up to 4 x quad- port 10GBaseT SLICs (SLIC 1 inclusive)

Up to 4 x dual ported 16Gbps FC

The 10GBase-T card can auto- negotiate down to support 1GbE

Up to 4x quad-port
10GbE SLICs: Optical

Up to 4 x quad- port 10GBaseT SLICs (SLIC 1 inclusive)

Up to 4 x dual ported 16Gbps FC

The 10GBase-T card can auto- negotiate down to support 1GbE

Up to 4x quad-port
10GbE SLICs: Optical

Up to 4 x quad- port 10GBaseT SLICs (SLIC 1 inclusive)

Up to 4 x dual ported 16Gbps FC

The 10GBase-T card can auto- negotiate down to
support 1GbEUp to 4x quad-port
10GbE SLICs: OpticalUp to 4 x quad- port 10GBaseT SLICs (SLIC 1 inclusive)

Up to 4 x dual ported 16Gbps FC

1. Mix of typical enterprise backup data (file systems, databases, email, developer files). The low end of capacity range represents a full backup weekly
or monthly, incremental backup daily or weekly, to system capacity. The top end of the range represents full backup daily, to system capacity. All capacity values are calculated using Base10 (i.e., 1TB = 1,000,000,000,000 bytes).
2. DD Cloud Tier and DD Extended Retention are mutually exclusive long-term retention solutions
3. The following systems support high availability active/standby configuration: DD9800, DD9300 and DD6800