NAS Overview
NAS (Network Attached Storage) products are used to add easily managed and cost optimized file storage to a network.  NAS systems are optimized servers dedicated to file serving (with print server capabilities) and can be managed remotely. The NAS servers ship with an operating system pre-installed, so the system can be up and running in a very short time.
NAS products are used to store unstructured data such as created by office productivity applications, images, audio files or videos. In addition, NAS gateways offer the ability to share the data stored on block storage backend arrays among many users.
In addition, NAS systems host file-oriented application data such as static web content, document management data stores, Linux/Unix application data for e-mail systems, source-code storage, etc.
NAS products in the market are servicing block-oriented data more frequently, typically with IP storage protocols like iSCSI, for mid-range applications that rely on block-level data access to stored data. Examples of applications requiring block access are database systems such as SQL and Oracle, messaging solutions like Microsoft Exchange, and many others.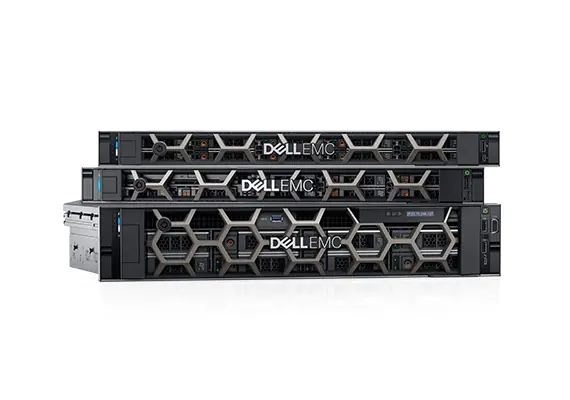 NX430
NX3240
NX3340
Leveraged Server Platform
PowerEdge R330
PowerEdge R740xd
PowerEdge R640
Form Factor
1U rack-mount
2U rack-mount
1U rack-mount
Version of Windows Storage Server 2016 Supported
Standard
Standard
Standard
Workgroup
Type of Data Supported
File and Block (Microsoft iSCSI target)
File and Block (Microsoft iSCSI target)
File and Block (leverages shared storage backend)
Processor
Single
Single and Dual
Dual
Memory
8GB / 16GB
16GB / 64GB
32GB / 64GB
Number of Internal Data Drives
4 3.5" drives identical in capacity and type
12 front-accessible, hot-swap 3.5" drives and 4-3.5" drives in mid-bay, 2 2.5" rear accessible hot-swap drives for the OS
2 or 4 front accessible (chassis has total of 8 drive bays), hot-swap, 2.5" drives for the OS
Size/Type of Data Drives Supported
SATA, NL-SAS
SATA, NL-SAS, SAS
Attached to external block storage
External Scalability
Can be expanded to support external, but is not preconfigured
Can be expanded to support external, but is not preconfigured
Each platform in clustered configuration
iSCSI Target
Yes
Yes
Yes
Cluster Support
No
No
Yes, up to 64 nodes
Hardware RAID Levels (factory-installable options)
R5
R1 (OS)
R1 or R5 (OS)
R5 or R6 (data)
Hot-Swap Drives
Yes
Yes
Yes
Redundant Fans
Yes
Yes
Yes
Redundant Power
Yes (optional)
Yes (optional)
Yes (optional)